Popular High School Movies You Have To See From The 1980s
Anonymous Contributor, 3 years ago
0
4 min

read
2496
If you were to think of a film that really resonated with you in your teen years, you'd probably think immediately to cult classics like The Outsiders, The Karate Kid, Dead Poets Society, and pretty much any film by John Hughes – right?
And now that you may have kids of your own, or might be taking a trip down memory lane, we've created a list of the most influential high school movies of the 80s, so that you can share and rewatch these gems all over again!
Gregory's Girl (1980)
Gregory Underwood soccer team is changed forever when Dorothy shows up to play. An incredible athlete, Gregory and his team quickly become obsessed with the new girl. Will Gregory work up the courage to invite Dorothy on a date?
Fame (1980)
Their ready for the audition of their lives – working for a coveted spot at the New York High School of Performing Arts. Who will make it?
Porky's (1981)
High school friends Pee Wee, Tommy, Billy, and Mickey want to lose their virginity. Instead, they get into a whole lot of trouble.
Fast Times at Ridgemont High (1982)
Stacy gets trapped in a love triangle with Mark Ratner and his buddy Mike Damone. Meanwhile, Jeff Spicoli is getting stoned.
The Outsiders (1982)
A rivalry between two gangs. Things heat up when one gang member kills a member of the other.
Risky Business (1983)
When his parents leave on vacation, high school senior Joel Goodsen cuts loose and gets into a world of trouble.
Footloose (1984)
In their small town, Rock music and dancing is illegal. One teen sets out to change that.
The Karate Kid (1984)
Daniel finds himself the target of a group of bullies. Fortunately, Daniel befriends Mr. Miyagi, an unassuming repairman who agrees to teach him martial arts.
Sixteen Candles (1984)
Sixteen isn't so "sweet". Could anything else possibly go wrong?
Weird Science (1985)
Misfits Gary and Wyatt work to design their ideal woman on a computer. Things get weird when an electrical issue brings her to life!
Pretty in Pink (1986)
Outcast Andie spends her time working at a record store and hanging out with Duckie, who has a huge crush on her. When a popular guy asks her out, Andie is fearful it's too good to be true.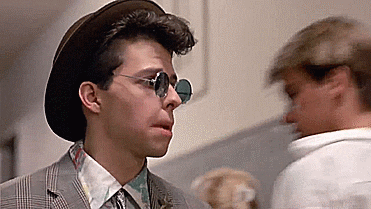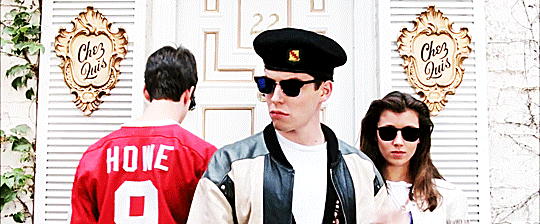 Ferris Bueller's Day Off (1986)
Ferris has an unbelievable talent for skipping school. Getting close to graduation, he convinces her friends to join him on a fantastical day while playing hooky.
Peggy Sue Got Married (1986)
Peggy Sue heads to her 25-year high school reunion, regretting marrying her cheating ex-husband who impregnated her in high school. After a fainting spell at the party, Peggy Sue wakes up a teenage, given the chance to change her future.
The Lost Boys (1987)
After moving to a new town, teen brothers Michael and Sam discover a local gang of vampires.
Can't Buy Me Love (1987)
A nerdy Ronald rescues cheerleader Cindy from getting in trouble after ruining her mother's clothing. In exchange for his help, Ronald asks that Cindy agree to pretend she's his girlfriend for a month.
Stand and Deliver (1988)
LA teacher Jaime Escalante must work to adapt and gain respect from some tough students and his colleagues.
Heathers (1988)
Veronica belongs to the most popular clique, a group of women named Heather. When she and her new boyfriend confront the lead Heather about her mistreatment of others, all hell breaks loose.
Dead Poets Society (1989)
English teacher John Keating arrives at an all-boys school where he works to open their minds using unorthodox teaching methods.
Lean On Me (1989)
Dr. Frank Napier invites ex-teacher Joe Clark to take over as principal of the lowest-ranked school in New Jersey.
Say Anything… (1989)
Lloyd aims to win the heart of Diane, a popular and beautiful girl at his high school. Everyone is surprised when she shows interest in him back, but will her father prevent them from being together?
Related posts